The Festival of Algorithmic and Mechanical Movement is taking place in Sheffield between 12th and 19th of November, 2016. With a wide reach into the diverse forms of art, the focus is on artistic engagement with the algorithmic and the mechanical (perhaps a humorous reference to software-hardware and mind-body dichotomies). A festival rather than a conference, the programme is packed with exciting and rather wonderful pieces of art, ranging from bio art through robotics to performance art of the algorithmic and the mechanical. The Sussex Experimental Music Technologies Lab was invited to run the Arts Research Symposium as part of the festival. This was the festival's "academic" face, a platform where researchers, artists and the general public came together for a dialogue about the role of algorithms and mechanics in the arts. I found the day very interesting, and below I will retrace the programme as I remember it, in order to remember more: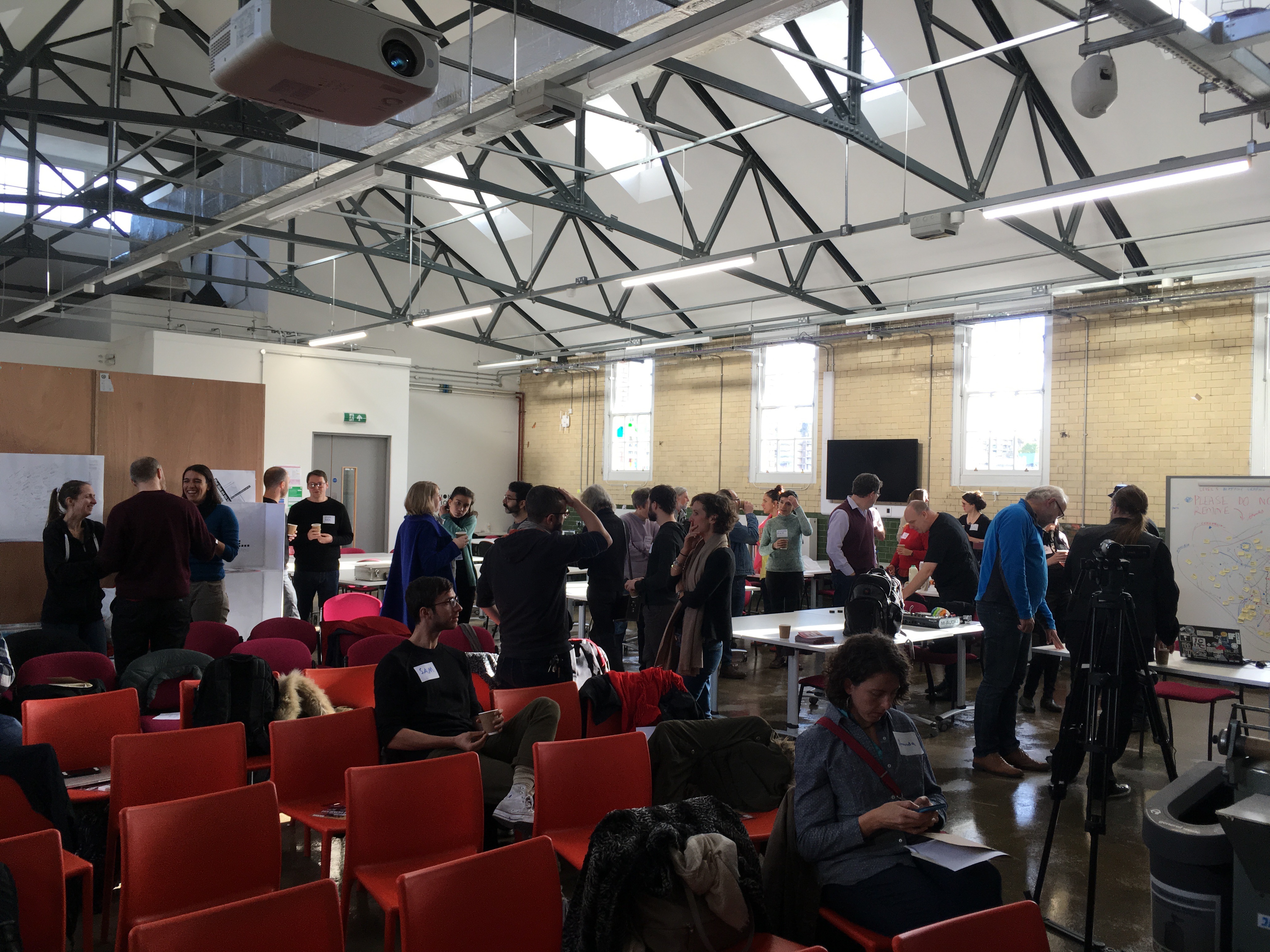 We started with a presentations session, where people had 15 minutes to present their work. Ellen Harlizius-Klück began the session by presenting her work on weaving, mathematics and notation systems. A brilliant project that's both technical, historical and philosophical, the hypothesis is that any historical period of human culture can be understood from the language related to its technical mode of existence. Metaphors derived from each historical period's highest technology infiltrate its thought and language. For ancient Greeks that technology was weaving: metaphors from weaving would be used to explain the cosmos or the structure of the state. The project attempts to understand past thinking process via the technology of live coding weaving looms.
Jesús Jara López presented work done at the MediaLab Prado in Madrid. The communal project Autofabricantes is a learning community for makers that focuses on building prosthetic objects. For example building robotic hands, or prosthetic hands, that might be used for humans, but designed by the person whose hand it will become. There is something beautiful about people designing their own bodily extensions, as a process of design, purpose and aesthetics. What came up in the discussion was that a person who has never had a left hand might not necessarily want a hand with five fingers on it, as the medical profession would automatically proscribe. They might want more fingers or less, or implements of any purpose and use: perhaps a modular system of control.
Susanne Palzer, a member of the Access Space team, discussed the Open Platform project that she has been working on for some years. Susanne is interested in questioning technology, bringing it to people by deconstructing it in live performances, exploring how creative processes can form during a live performance. A form of live coding, the project aims to reconfigure technologies, or as she says, to do "technology without technology."
Alejandra Pérez Nuñez presented her Yeast performance project. She focuses on the potential of yeast reactions as biological responses as part of more complex ecosystems. For Alejandra, her work is an onto-epistemological investigation where, through the sonification of the fermentation action of the yeast. Here the yeast has a form of knowing, a relationship with its owner, craving sugar or heat perhaps, but certainly set up as a node in a complex perceptual system. Barad's intra-action was mentioned in this context, with the state external material properties becoming part of our sensory system via translation processes, such as sonification.
Elise Plans and David Plans presented their generative music systems in the form of mobile app, the audiovisual Ominator. Here the user's voice affects the development of the music and the visuals in realtime, so the listener becomes an integral part of the piece, fusing the listening with performance and composition.
Giuseppe Torre raised a question regarding the creative machine, stating that no AI algorithm will ever make a computer a creative agent. For Giuseppe, a computer cannot even be given the status of an agent, it is merely a tool, and only humans can be creative. (computational creativity was a theme brilliantly explored by Luba Elliott in her performance intervention during the afternoon coffee break). Giuseppe presented his code art installation, AI Prison, which asks if a system can independently self-organise and evolve its own memory paths.
Alejandro Albornoz presented the impressive work of Chilean pioneer in computer music and algorithmic composition, Jose Vicente Asuar. A visionary and an inventor, Asuar created computers in the 1970s and released some works that are of historical interest, such as El Computator Virtuoso and Asi Hablo el Computador. See Pueblonuevo for the music of Asuar.
Joana Chicau presented her choreographic work which focuses on arrangement of things in space (choreo - dance, but also space; graph - writing), and here, in particular, machine choreography. Joana impressively live coded in the browser, deconstructing the popular Google search page and turning into a choreographic space for exploring time, movement, and linguistic expression.
Finally, we had Rosamaria Kostic Cisneros presenting a beautifully organised project which introduces new technologies to the traditional practices in Romani/Gypsy communities. Participatory design, community engagement and bottom-up technology design were the key concepts in this interesting project.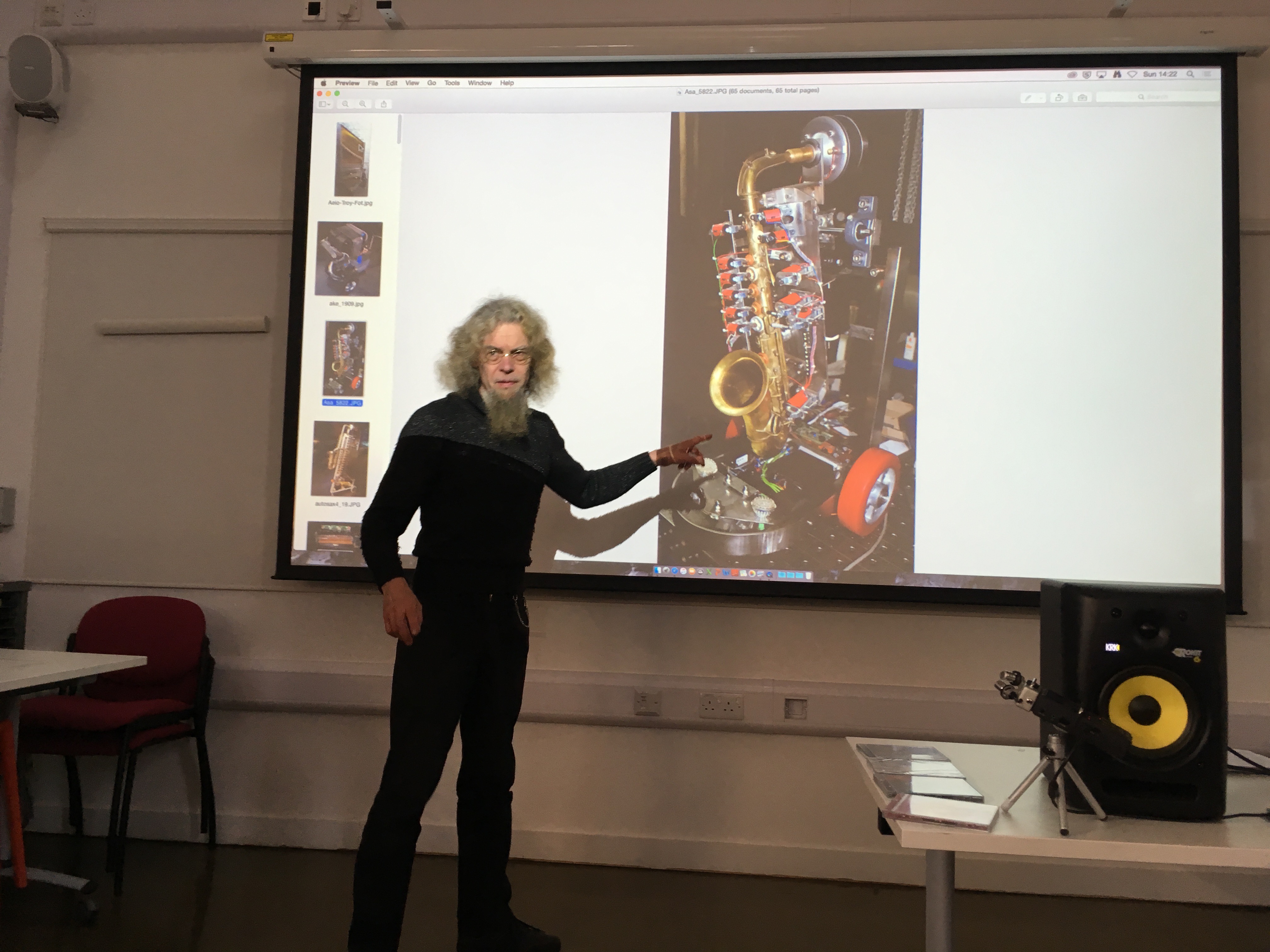 After lunch we had a keynote by Godfried-Willem Raes. A composer, performer and robot engineer, Godfried is a pioneer and a catalytic force in European modernist and contemporary music. Godfried's talk was personal, humorous and very informative. He first gave a short personal history of how he ended up creating musical robots, and discussing why robots are interesting in the historical development of music technologies. It's clear from Godfried's work that he takes his role as musician to be one of performer and a communicator. For him music technologies are means to communicate with the audience, and thus require a seductive power: they are rhetorical devices. Having worked in the 1960s on electronic instruments, for Godfried it became interesting to work on robots since they are acoustic (as apposed to synthetic), they demonstrate the sonic action, and they exceed the physical capabilities of the human (such as being capable of playing 88 notes on the keyboard at the same time, or with microsecond intervals, each 'finger' with a different velocity value). A brilliant presentation, which we'll have online hopefully soon, but in the meantime, here is a Ted Talk.
We had two specialist panels during the day: the first one chaired by Derek Hales on Speculative Hardware and Fictive Materialities, and the second one on Maker Culture, chaired by Amy Twigger Holroyd. The speculative panel was extremely rich in content and, fittingly, very speculative. Jamie Brassett discussed how the future enters the present in design, Andrew Hugill presented how pataphysics is the science of impossible solutions and thus a pertinent methodology, Maya Oppenheimer gave a presentation on her concept of dramaturgical devices, and Spencer Roberts took us through a concept map of process philosophy and how it relates to future issues in design.
After Luba Elliot's intervention, which involved audience engagement in performing a Turing-type AI test, where other members of the audience were the critics, we had the maker panel. This panel discussed how technological and cultural changes have created the conditions of an emphasised focus on making (something that the panel agreed was simply a condition of human existence). With Jesús Jara López, Ryan Patrick Morley, Tom Tobia and Tamar Millen the discussion was engaging and interesting, framed by two quotes provided by Amy:
Many practices of making can be considered a sort of 'everyday resistance', not just to a consumerist culture but also to a political system increasingly controlled by corporate interests and difficult for normal people to influence directly. (Amanda Williams and Joshua Tanenbaum)
Then a little more cynical sounding Csikszentmihályi:
What is called 'making' in North America and Europe is, frankly, a luxurious pastime of wealthy people who rightly recognize that their lives are less full because they are alienated from material culture, almost all of which is products produced by corporate interests. Sadly, rather than address the problem, makers develop a hobby that solves the symptom for them, but if anything slightly strengthens the disease. (Chris Csikszentmihályi)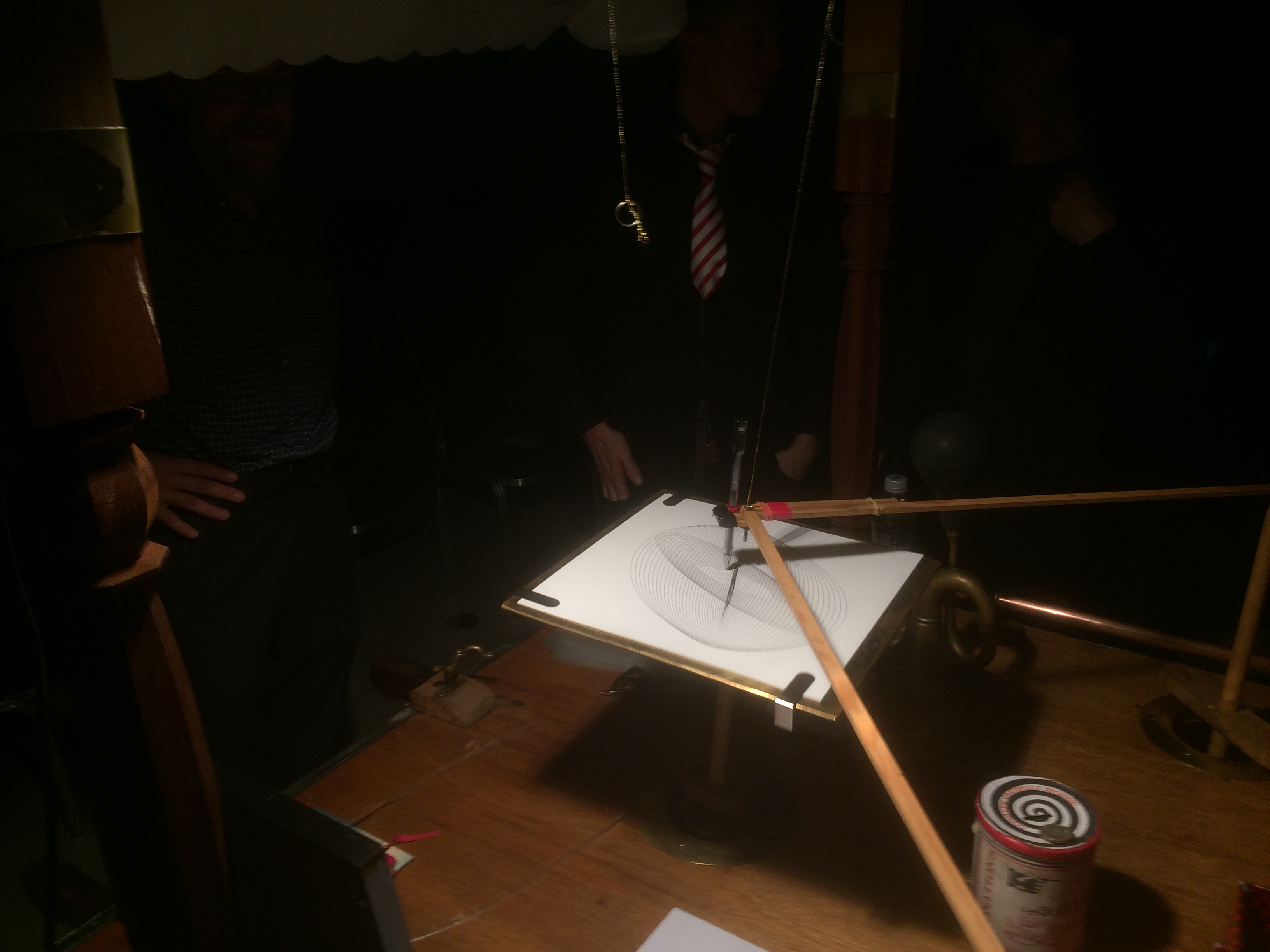 The symposium ended in the Millenium Gallery with a harmonograph installation by Ryan Patrick Morley, and performances by Tom Mudd on one button, Tim Shaw and John Bowers with modular hauntology, Joana Chicau with machinic choreography, Simon Blackmore clapping a sinewave, and Ryan Kirkbride live coding his FoxDot system. Or did it end there? Perhaps it ended in the Rutland Arms pub, or in Access Space, with smoke machines and pop-up sound systems.
Video recordings of the day can be found on the YouTube Channel.
---
If you found this post intersting, you can
share it
or
follow me on Twitter
!
---